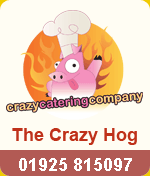 Home
About Us
Menus
Hog Roasts
Barbecues
Big Pan
Desserts
Themed Menus
Personal Chef
Event Management
Reviews
News
Customers
Contact Us


Sign up to our monthly newsletter to get the latest tips, menu ideas and much more.



About The Crazy Catering Company
The Crazy Hog Catering Company offers specialist Event Company Catering, Wedding Catering, Party catering with our team of experienced and talented chefs, who have trained and worked within some of the best hotels and restaurants around the world catering, The Crazy Hog Catering Team work all year round on corporate events, weddings catering and Private party catering with our personal chef service, to make sure our client's party or event is one to remember.
We pride ourselves on offering amazing fresh food cooked by our team of chefs in many different ways at every event and wedding, offering you an amazing theatre of food with our Crispy Crackling Spitted Hog Roast Pigs & Lambs cooked fresh for you at your venue by skilled team of chefs, along with Barbeques, Chefs Carvery, Hot Baked Potatoes, Big Pan Experience Curries, Stews, Paellas throughout the year winter and summer.
We also have a range of special theme menus for your company event or wedding such as Bond Nights with champagne and canapés on arrival, Medieval Parties offering a whole spit roasted pigs or Lambs with a meat lovers selection and rustic breads.
Our Chocolate Fountains offer an amazing feature at any corporate event or wedding with our giant 44inch illumined centrepiece and crazy amount of lovely dips to enjoy, complimented with personalised cup cakes for your wedding or party to finish any event or wedding with a smile and lasting memory for your guests.

Over the last three years, The Crazy Hog Catering Company has worked with some of the leading companies across UK providing event catering to the likes of Manchester United, Tesco, Audi, BMW, Mercedes Benz Walkers Pepsi and even the England Rugby League Team, along with wedding catering for formal and informal weddings at some amazing venues and castles, what makes us different is our customer care and high level of service at every event and wedding…. If you don't believe us then take a look at what our customers say and their testimonials from our weddings and private parties and company events during the last 3 years.
Latest News
Let The Crazy Hog but the bounce into your party
The Crazy Hog is now able to offer a unique addition to your party package with a fantastic range of large inflatables that will have the children and adults participating. We have fully enclosed obstacle courses in a variety of themes from pirate ships to the olympics to a space rocket! Read More
New Menu Launched
Take a look at our brand new menu for 2011 – the perfect way to select the best food, wine and entertainment for your next up-and-coming event. Complete our enquiry form or give us a call for a copy.
Refer a friend and we'll get the drinks in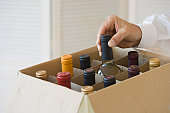 You could win a selection of wines worth £50 if you refer a friend to use. Provide us with one or more names and we'll approach them, if we get a booking then you get the wine!
Enter the details of up to three of your family, friends or work colleagues and we will offer them our great service for an up-and-coming event. If they make a booking, you get a selection of wines. Read More
What Our Customers Say
Our bonfire party went really well, if not a bit muddy, the hog roast was fantastic, with over 150 guests and no kitchen due to our house renovation I don't know what I would have done, Ian was great, I didn't have to do a thing, I would definitely use you again, in fact I will never organise my own food for a party again since I have used you, I didn't realise that you also have lots of other choices since I was looking for a hog roast I didn't check out the rest of your website but I have now and it almost makes me want to have another party so I can try your other dishes, think will wait for the building work to be finished next year though !
18th Birthday Bonfire Night Hog Roast Party – Wilmslow, Manchester November 2010
We booked the Crazy Catering Company following a recommendation – which is always a good thing. The event was really well organised and the way we were looked after by Ian and his team was excellent – a special mention to Graham, our chef for the day. For anybody who is thinking of this for an event – don't think, just book it! All our guests raved about it – and there was loads of food to go around. Brilliant , I would also add that the spare meat that we took away with us at the end of the evening has made some fantastic casseroles since! I would encourage any further customer to make sure they.
40th Birthday Party Hog Roast – Ribchester – Ribble Valley, Lancashire November 2010
Thanks very much to the three of you for helping us all have a really memorable evening on Saturday, my Dad was thrilled to get everyone together and enjoyed all his food (without any fussing and moaning) so that was a good result! , Your very professional and personal service was superb and not having to wash up afterwards was great.
Surprise 80th Birthday Dinner Party – Personal Chef, Wirral October 2010


Thank you for providing the Hog Roast, Barbeque and Chilli Pan at our recent staff event. A particular thank you for the last minute changes and for accommodating our requests. You and your staff were very professional throughout the day and we have had positive feedback from our staff and we will definitely consider booking you for future events.
Event Co-Ordinator, Manchester United Football Club